« November 2003 | Main | January 2004 »
December 29, 2003
Happy Anniversary to Me!
Today is my FIVE YEAR ANNIVERSARY of living in Los Angeles. Woo hoo!! Let the celebration begin!
Posted by bonnie at 12:24 PM
December 27, 2003
Tomorrow is...
When Archie doesn't want me to work, he does this: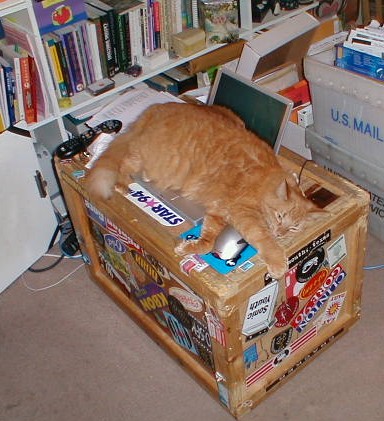 And that's something I can't really argue with.
Tomorrow, as many readers know, is the anniversary of my mother's death. It is a day I will spend in quiet remembrance. I am much healthier this year than in years past. Not sure how much of that is due to time and how much is due to actual progress in my life and taking care of what's truly important.
Doesn't matter AT ALL.
Point is, I'm okay. Quiet and blessed and okay. That's huge.
Christmas photos: here. Thank you, Tracy and Dick for hosting another great year of friendship.
Keith comes home tomorrow night. Yay.
Posted by bonnie at 2:26 PM
December 24, 2003
Like Taking Candy from a Baby
Is it really EASY to take candy from a baby? I can only assume that it would be quite difficult, resulting in tugging and lots of loud crying. So... how is that phrase analogous with something that is easy?
Hm.
Posted by bonnie at 12:21 PM
December 23, 2003
Further Cool Find
Patrick Combs retells the story of how he deposited a non-negotiable check for $95,093.35 and... well, you have to read it for yourself. FASCINATING story.
Posted by bonnie at 3:11 PM
Well, Now
This is just cool as Hell.
Not sure why I'd never encountered that before.
Came across it as I'm searching for an aerial photo of the BACK of the Y in the HOLLYWOOD sign. I saw a photograph in a coffee table book in the lobby before my meeting yesterday (before the way cool earthquake) in which the graffiti is visible. At the TOP of the West-most branch of the Y is the word (very clearly printed) BONNIE.
Such a good sign, especially going into that "earth-shaking" meeting. LOL
Posted by bonnie at 1:43 PM
Oh Jeez
So, I'm watching the episode of Friends in which they have the little contest to name all 50 states in six minutes. Phoebe names one and then switches to naming types of celery, Monica names 41, Ross names 46, and Joey names 56.
So, of course I have to try it while migrating my Blogs into Movable Type.
42?
What is WRONG with me??
Posted by bonnie at 2:01 AM
December 21, 2003
Announcing 1/6/04 HHH
Woo hoooooo!!!!!!!

It's time to make it all offical! The first Hollywood Happy Hour for 2004 is set!

All Details: HollywoodHappyHour.com

The Basics: Hollywood Happy Hour is BACK!!

Please join us on Tuesday, January 6, 2004 for our next Hollywood Happy Hour with special guests, industry news and reviews, networking, loads of great prizes, yummy food, and adult beverages!

Who: Executive Producer of many ground-breaking television shows including the current Golden Globe nominee and FX smash Nip/Tuck Greer Shephard and former Outfest manager, former supervisor of graduate film production at AFI and, Award-Winning indie filmmaker JD DiSalvitore with hosts Nelson Aspen (whose new book is on its way to the printer), Bonnie Gillespie (who is casting a feature film), and with a triumphant return to Los Angeles, it's Kris Burtt with her Couch Potato Column... LIVE!

When: Tuesday, January 6, 2004, 5:30pm arrivals, 6pm program start, 7:30pm schmoozefest

Where: Alessi Ristorante & Bar, 6602 Melrose Ave., Hollywood (corner of Highland; valet parking available)

How Much: $5 plus two drinks... also, plan to take advantage of the half-priced Hollywood Happy Hour appetizers and pizzas!

What Else: goodie bags from our sponsors for winners of our business-card drawing, lots of freebies, and everyone's uncle, Uncle Bob, will be putting it all on "tape" for our audio archives... Yay!

RSVP: with your name, number in your party, and any suggested questions for the Q&A segment via email ASAP.

The Details: Free! Goodie Bags loaded with fun E! Entertainment Television and California Poultry Federation stuff--plus cosmetics and aromatherapy treatments from Pampered People Spa, memo boards from Showfax, and fun AquaHooks custom-made for HHH!

Free! Entry into the Hollywood Happy Hour raffle for all--just bring a business card or headshot-postcard to drop in the fishbowl!
You could win: Free passes to the legendary 15 Minutes of FEM shows; Naughty T-Shirts from Freshproduct; Hand-crafted soaps and bath teas from Goblin Gifts; Website package and headshots from 123Hollywood; Passes to shows and private instruction from Theatre District at the Cast; Casting Qs and Self-Management for Actors by Bonnie Gillespie; Sacred Blood and Let's Have a GAY Dinner Party! by Nelson Aspen; Acting Out by Stuart Stone; Acting Is Everything by Judy Kerr; ActorTrac software demos from Holdon Log; 15% Discount at Take One Film Books; Agent, Manager, and Casting Director mailing labels and guide books from Breakdown Services; Subscription to Showfax.com sides and Actors Access services; Annual membership on ActorsBone.com; and so much more!
You must be present to win, natch.
Nelson, Kris, Uncle Bob, Aunt Diana, Keith and I can't wait to see you there, everyone! Yay!!!
Posted by bonnie at 8:34 AM
December 19, 2003
Blog-free Zone
Yeah... SpyNotebook is down. It has been. Lucy (the server) died and Chip is putting up Harriet (new server). So why am I blogging if this can't upload? Eh... it'll show up eventually.
So, received a fortune in a fortune cookie from Gimlet Night. On the back: "Do you have the next Millionaire hit? Pitch your TV show idea to three TV execs in Hollywood. Enter at...." Egad! That's just wrong! Don't fall for it, non-Hollywood-ians. You aren't going to win a pitch meeting from a fortune cookie!
Ooh... lottery numbers.
Posted by bonnie at 5:18 AM
December 14, 2003
Announcing
I'm pet-sitting for sweet Nelson's dog and cat and don't have a ton of time to play online, but I did want to go ahead and happily announce the following new joint venture:
Currently Casting, a partnership between me and Michelle Foumberg, one of my favorite people on the planet. What a wonderful time we shall have, rocking the known casting universe!
Woo hoo!
Okay, back to work. Much to do. Much. Yay!
Posted by bonnie at 1:32 AM
December 8, 2003
Ooh... I Want...
I would never spend this kind of money for such a thing, but this is definitely a want:
yeah.
Posted by bonnie at 3:35 AM
December 5, 2003
The End of JenniCam
Rest in peace, JenniCam. You certainly started something. News from SlashDot.
Posted by bonnie at 12:04 PM
Futile
Y'know what's impossible? I mean really, truly impossible. Finding out how tall actors are using the Internet. Geez, this is frustrating!
Posted by bonnie at 1:04 AM
December 3, 2003
Finally Feeling Better
I am finally, finally, finally feeling better! That's 17 days of ick, finally kicked. Wow. Poor Keith is still in bed with it. I'm just so happy to be vertical for a bit without needing a nap to recover from it.
Went to the Roxbury Publishing Company annual potluck yesterday and was so glad to get to see everyone again, meet the office newbies, and eat some great food. Really great group of people and I'm pleased to say I've been working for them for over four years now. Wow. That means my anniversary of LA living is coming up on five years. Holy cow. On December 29th, I'll have been here for five years. This time. 13 months in 1993-1994. I guess LA really is home, eh?
Today is Kris Burtt's birthday. Yay! Happy birthday!
Been getting some really cool mail, email, and phone calls about Self-Management for Actors which is just really fun. I guess it's a good book. That's amazing. The fact that it's touching people and helping them and making them feel compelled to tell me how much it means to them... that's a gift I hadn't counted on.
Way cool.
Went out with Dalt's Gang Monday night. Dalt's... Casting Office for rockstar karaoke... then Jerry's Famous Deli 'til 4am. Eesh! What a great way to get back to the land of the living! LOL Great group of people and I'm thrilled to call them my friends.
Kitties are good. Eating lots of food to celebrate the winter weather (um... yeah... it's like 70 degrees).
I think Keith and I may run off to Vegas later this month and get married. We'll see. Tee hee. Having fun, and that's what counts, right?
Okay, back to work. Much much much to catch up on, making up for having been out of commission for so long. That's okay. I'm up to it. Finally!
Posted by bonnie at 1:06 PM