« Like Taking Candy from a Baby | Main | Happy Anniversary to Me! »
December 27, 2003
Tomorrow is...
When Archie doesn't want me to work, he does this: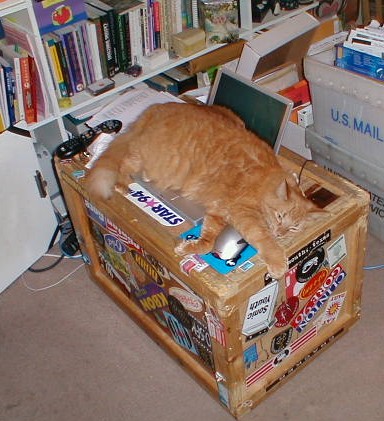 And that's something I can't really argue with.
Tomorrow, as many readers know, is the anniversary of my mother's death. It is a day I will spend in quiet remembrance. I am much healthier this year than in years past. Not sure how much of that is due to time and how much is due to actual progress in my life and taking care of what's truly important.
Doesn't matter AT ALL.
Point is, I'm okay. Quiet and blessed and okay. That's huge.
Christmas photos: here. Thank you, Tracy and Dick for hosting another great year of friendship.
Keith comes home tomorrow night. Yay.
Posted by bonnie at December 27, 2003 2:26 PM