« Home Home Home | Main | Oscar Party Photos »
February 28, 2004
And here are the photos...
Of course, there is no such thing as leaving the house without photographic evidence of some kind.
Photos of the entire trip are available here. Enjoy!
Where did this one happen?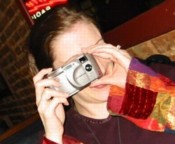 You'll have to click to find out. ;)
Oh, is anyone else disturbed by the upcoming MTV series, I Want a Famous Face (where people get plastic surgery to look like celebrities)? *shudder*
Okay... enough of that. Enjoy the photos. We had a blast!!
Posted by bonnie at February 28, 2004 1:43 PM