« *giggle* | Main | No Comment »
February 3, 2006
Proofer/Contributor Party Photos
Woo hoo!
Thanks to everyone who came out last night to help us celebrate the birth of Self-Management for Actors, 2nd edition.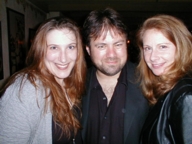 click for all of the photos
Time to plan: 46 hours. People who showed up: 36. Money spent at El Cholo: $380 (+$150 tip). Number of pink Swingline Tot50 staplers given away as party favors: 23. Amount of fun: infinite. Volume of love: loads. Number of laughs: lost count. The bliss that is our amazing group of friends: truly priceless.
I love y'all.
Posted by bonnie at February 3, 2006 7:39 PM
Comments
Thanx for inviting me.
Thanx for my stapler
Thanx for my book.
Thanx for EVERYTHING!!!
Going to borrow the pictures of myself for my blog. (hope you don't mind) :)
Ames
Posted by: Aimercat
at February 4, 2006 2:10 AM
Posted by: Bon
at February 5, 2006 2:45 PM
kept trying to post...so now i can...thank YOU for such an amazing time - kendall so enjoyed her time with you and all the wonderful people involved....we have out two books circulating the house and we keep taking it from the one that is sleeping so we all are trying to get through it before rick leaves for tampa and ry begins his spring semester....xoxoxo we love you tons...but....you know that!!! here's to edition #2.....
Posted by: suesie at February 5, 2006 8:13 PM
Looks like a great time -- sorry to have missed it!
Posted by: Larlock at February 6, 2006 2:20 AM