« *giggle* | Main | Hmm... »
June 12, 2006
Happy 12 of 12!
This month's 12 of 12 was much more exciting than last month's 12 of 12 for me. (Visit Chad for all of this month's participants. He was shooting for 75.) PARDON THE NAME-DROPPING LINKAGE AND RANDOM STORY-TELLING. I figured it was a good time to get everyone up to speed a bit.
Oh, and click any of these photos to see the larger version.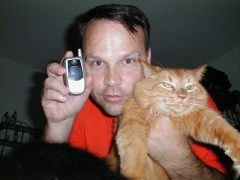 Started the day with the assigned "bonus photo" (one taken at 7am PDT). Keith heard my alarm going off, grabbed a cat, and came in to show me his phone reading "7am," which I made my first photo. (Back to sleep, since I went to bed at 5am. Keith, however, was on his way to the Funk Bros. with his ailing auto.)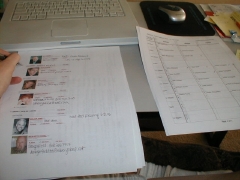 A couple of hours later, I was up and scheduling callbacks for
Salvation, Texas
. Happily, I also got to CAST two actors today. Yippee! Congrats to
Mark
and
Alison
! Y'all rock! (I'll start building the cast webpage soon.) Also, I got a call from
Dee
(with whom the
HILMMAKS
producers met last week--while I was meeting with
Chris
--both of whom it seems will be offered roles in that film; plus Chris looks like he's in for
The Masquerade
) asking me to sub her acting class one day later this month. Of course, I said yes! I love her students. They're awesome!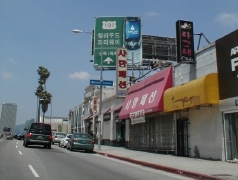 Then, Keith and I headed off in the TicTac for Los Feliz. By way of Koreatown. Cool sign, eh?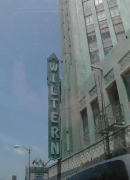 Keith did the photographic goodness, here. I was the art director. Hee! Love the Wiltern. It's such a cool color.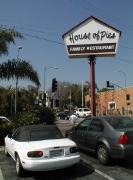 After our lunch, I snapped this photo of the TicTac with the House of Pies sign. First time I'd been to the House of Pies since October, 2001 (after a brilliant play at the Company of Angels).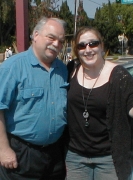 Our date, my buddy
Richard
, to whom I was able to offer a role in
How I Lost My Mind and Killed Someone
last week. He accepted. I'm so freakin' excited about how this film is taking shape! Since he bought lunch today, Keith and I will take him to
Tana's
as a thank you after Quinn leaves town.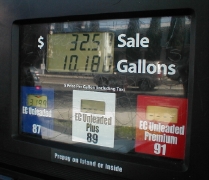 I never thought I would spend $30 filling up my gas tank. It only holds 11 gallons, for cryin' out loud! But, I do have to say that the ARCO on Franklin at Gower has always been the cheapest gas I've ever seen... even when I lived at the Hollywood Tower in '93 and
Melissa
and
Chick
found a kitten (which they named Arco) there.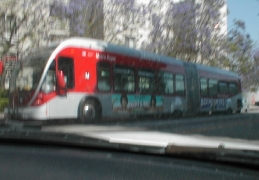 I wasn't going to use this photo (I have many others from the day's events), but I really like the distorted image. The accordian bus is one of my favorite funny-looking things in LA traffic. And how gorgeous are the jacaranda this time of year! Wow!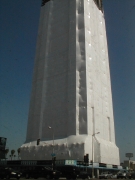 Apparently they've slipped a condom over the 360 Building. Somehow I missed the news that
it was on fire a year ago
. I blame TiVo.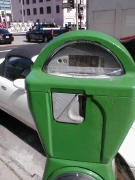 Tip from the former Improv Comedy Traffic School instructor: if the meter is blinking "FAIL," you don't have to put money into it. You do, however, have to put a note on it, if you plan to do more than run in and out of the Hollywood Post Office like I did (after dropping Keith off to get his car from the shop).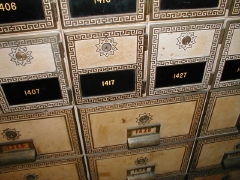 Cricket Feet World Headquarters. Did you know our official offices were so small? We have pixies working for us in there. They are very happy.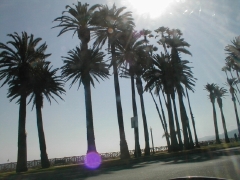 It was such a lovely day that instead of coming right home, I drove the extra seven blocks and did a lap by the spot where Keith and I got married 361 days ago. Wouldn't you get married there too? It's just so gorgeous here!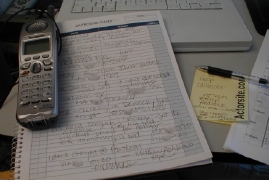 Back home, back to work. Answering machine is all but full of messages from agents confirming actors' callbacks for Wednesday, casting directors with questions about our panel at the
Hollywood Black Film Festival
on Thursday, and news that
Dennehy
officially has our script now. Had to make some changes to
our vacation schedule
due to
OUR building being tented
(sheesh!), but it looks like that all worked out just great too. Hee!
Y'know... I think I might just have the most kick-ass life available for a dollar. So glad I bought it. Totally worth it. Hope your 12 of 12 was as much fun. Yippee!
Posted by bonnie at June 12, 2006 8:54 PM
Comments
I love your 12 of 12 today. Lots of fun. And it made me want pie.
Thank you for your generous photo-hosting offer, but I ended up not taking any pictures today. I'm housesitting and I literally didn't leave the house once--spent most of the day writing at my computer and now I'm watching the Deadwood first season on DVD (on episode 3 now). Wasn't much to take photos of. AND i slept through the bonus photo. Next month!
Posted by: Erik at June 12, 2006 9:46 PM
Fun facts: I had no pie (not gluten-free; bummer), I participated in 12 of 12 when I didn't leave the house all day long, and I predict Blogger will let you post photos again next month.
(My predictions are fun facts.)
Posted by: Bon
at June 12, 2006 10:07 PM
I was going to participate, but my computer screen was really boring. I suppose I could still do it. Since I didn't do nothing but sit at my computer all day, I only need to take one picture to "represent" that and I still would have an hour to take my other eleven pics. We'll see.
I like your fun fact/predictions.
Posted by: Erik at June 12, 2006 10:54 PM
Oooh! You should totally do it, just like this chicky. You could even draw!
Posted by: Bon
at June 12, 2006 11:03 PM
Couple a things. First, Archie looks soooooo enthusiatic in that pic! Hilarious!
2. I LOVE Richard Riehle!!! Yay for you!
3.
4. Wow, that's some cheap gas!!!
5. I was just saying to Mike Saturday how I just love the Jacaranda when it's in full bloom this time of year!
6. I drove by the 360 building today and thought, "What's with the glove?"
7. Thought about you again today when I parked in the loading zone and your awesome tip about being able to park there after hours! Teehee!
8. Heee! Friday's the big day! Awwww!
and finally...
9. LOVE YOU!
Posted by: Debra at June 13, 2006 12:44 AM
Oh, sis sis sis sis...
1. Wasn't Archie just as pleased as punch at 7am? Hee! Can you see HIS sister sleeping ON ME in the foreground? HOWL! These animals!
2. Thank you for the RR yay. I actually met him on the SAME DAY that I met Joel and Trevor... and now here we are 10 months later putting these guys together in a movie! Yay!
3.
4. I KNOW! I couldn't believe we found $3.19 gas--but of course it makes sense that it would be at our old ARCO. What was really wild was looking at all of the other 12 of 12 photos from around the world. Our gas is SO high.
5. Some of my favorite colors!
6. Great minds, baby!
7. *giggle* Love it!
8. I KNOW! And Quinn will be here for it! Of course, I have a date with Babes McPhee and I'll be leaving the boys alone for the evening, but that's okay. We'll have anniversary time soon enough. ;) Hee!
9. Love you TOO, sis! XXOO
Posted by: Bon
at June 13, 2006 1:03 AM
Cheap gas??? I was thinking..."Thank god our gas isn't THAT high!!!!"
I am so glad I found you guys!!!

Posted by: drc at June 13, 2006 9:18 AM
2 pics spittin distance from Lipp's place & no shout out? Ah well, I did get a nice phone call from you today : )
And, your pic of that new groovy 101 K-town sign is precisely 2 blocks east of my 2:30 am pic.

oops, forgot to post last night
Posted by: Bill at June 13, 2006 10:07 AM
Love the condom building pic! I haven't been in that area of town for a couple of weeks, so haven't seen it yet. The building was empty for 5 years! I would love to have a loft in the building!
Posted by: Dutchimport at June 13, 2006 11:59 AM
I remember House of Pies from the 80's! Forgot it was there
As for the Failed meter here is what I learned: you can leave a note AND change and they can still ticket you. The meter folks I talk to say it's up to the meter-person, I have been ticketed even though I left a note and guided them to the change on my wiper, I argued it with the city, and lost - so no more failed meters for me.
Off to Alaska for a few weeks, I rely on all you LA bloggers to find out what is going on :)
Posted by: matt at June 13, 2006 12:26 PM
drc: Seriously, that's some of the cheapest gas in LA County right now. I'm so not kidding!
Glad you found us too! Yay! Blogs are a happy place!
Lipp: You *did* get a shoutout while we were in the car, because Keith LOVED telling me how close we were to your apartment several times on our trek through the Eastside. Thing is, I've never been to your place before! So, I didn't remember it after Keith said it (and of course I didn't remember at which photo spot he was saying, "Your brother lives over there," and at which he was singing along with the radio but changing all of the lyrics to "Giant chickenhead").
Glad you liked your phone call. Hee!
Dutchimport: Can you imagine what a loft in the 360 Building would cost? Eesh! But, man! What a view!
Fun fact: in 1993 and '94, I worked across the street(-ish) at the Motown (now House of Blues) building for Left Bank Management. AMAZING views. And a kickass job.
Matt: Here's the deal on the failed meter, at least in Los Angeles:
If you park at a broken meter in the city of Los Angeles and still get a ticket, call (877) 215-3958 to report the meter's number. If upon investigation the meter is indeed broken, your ticket will be voided.
Believe me, it's NOT up to the meter person as long as you can prove the meter was broken when you parked there. I was licensed to teach the California Vehicle Code for three years, baby. I know the deal. ;) (At least HERE. It's different, everywhere, of course.)

Have a GREAT time in Alaska! Take (and post) photos for us to see! We'll see you back in action in LA at an audition soon, I'm sure.
Cheers, all!
Posted by: Bon
at June 13, 2006 1:47 PM
Wow, I got the 12th comment on Bon's 12 of 12. Is that special or what?
I know, it's not supposed to be about me. And it's not. REally. Honest.

Posted by: Ed R at June 13, 2006 4:11 PM
I love Dee Wallace Stone.
Posted by: Erik at June 13, 2006 4:30 PM
Hey! Time for anovther viewing 'The Frighteners' !
It's a Peter Jackson movie, with Dee Wallace Stone AND Michael J Fox in it....

Posted by: Ed R at June 13, 2006 7:39 PM