« August 2006 | Main | October 2006 »
September 30, 2006
Really Good Theatre
Keith and I went to see No Mercy at the 24th Street Theatre tonight. Awesome. That space is amazing and the cast was outstanding (and I know I'm biased, having cast it and all, but seriously, those were some kick-ass actors who did a fantastic job).
Really liked the staging and "choreography" of time shifts. Constance Congdon's script is phenomenal. I was truly moved by the message of hopelessness and faith, as chilling today as it must've been when written 20 years ago. Haunting stuff. WELL DONE!
I'm especially impressed with Matty Ferraro, Phil Ward, Dawn-Lyen Gardner, and Geno Monteiro. Ashley West Leonard and John Dennis Johnston rocked pretty dang hard in their on-the-air scene. Great space, lovely work. Congrats to Jay McAdams, Debbie Devine, Carolyn Palmer, and Larry Biederman on the celebration of live theatre and the 24th Street Theatre's 10th Anniversary.
So glad to have been a part of it, even in some wee little bit. Congratulations and cheers!! (LA Times listing here.)
Posted by bonnie at 11:26 PM | Comments (5)
September 29, 2006
*beaming happy casting director*
So, you say you like to see stuff I've cast, huh?
Well here's the latest, and it looks AWESOME!
Congrats to Mark Apicella and the whole cast and crew of Salvation, Texas for putting together something that looks really amazing.
Can't wait to help celebrate tonight at the wrap party-slash-birthday party for that director extraordinaire. Woo!
Posted by bonnie at 5:00 PM | Comments (3)
September 28, 2006
Email Down
Just wanted to say that if you've sent an email to me (or Keith or anyone else we've given addresses to) at any of the CricketFeet.com email addresses (or HollywoodHappyHour.com addresses or FaithSalie.com addresses) since 3:20pm today, I've not received it.
And they have no idea whether I WILL receive it when the servers are brought back online. Lovely, huh?
Their live chat was so dang helpful... "If you didn't receive any emails when the server is brought back online, please contact our admin for resending." What?!? How will I know whether I didn't receive an email if the person who sent it thinks it got to me (since they put out NO error messages or anything)? Am I supposed to send an email to everyone who MIGHT have sent me an email today, letting them know I didn't get it?
Brilliant.
Yes, I did contact those MOST LIKELY to be making contact to ask them to CC my GMail email account for now... but son of a BITCH, when will this crud be over? Bleh! Technology. Bleh! Oh well... at least I'm getting caught up on mail I'm SENDING (since my ability to send mail hasn't been compromised... of course no one had better reply anytime soon). Grr.
Vent over. Life is otherwise 100% good. (Oh, and I could watch Studio 60 on the Sunset Strip like constantly. Not since season one of Nip/Tuck have I been so in love with a show that I want to watch it again the INSTANT the credits roll.)
Posted by bonnie at 11:01 PM | Comments (2)
September 27, 2006
Ex Awes Ted
Seriously. Zzz.
I've been working SO hard on pulling together this script-in-hand staged reading of HILMMAKS that I finally hit a wall just now. Phew. Only three roles to go.
I am so so so so excited. Exhausted + Excited = Exhausxcited. That's me! Zzzzzz.
Posted by bonnie at 8:06 PM | Comments (4)
September 25, 2006
Y'know what rocks?
(I mean, besides my awesome life which seems to get better every single effin' day.)
That'd be having a four-and-a-half hour meeting with the dream team (Joel and Trevor) behind How I Lost My Mind and Killed Someone (one of the two best scripts I have ever read in my life) to come up with our rockstar staged reading cast (no, no... we haven't cast the film yet... this is just a read-through for investors... don't panic, eager actors checking for an update) and knowing that we all feel really great about this project, the shared vision, and the team already assembled. Man, I dig these guys. They just so rock. Very laid back and easy to work with... and so much fun!
All right... so here we go. I have our first, second, and third choices for each role all listed up and the calls start going out in the ayem. *beams* I love moving forward even a little bit on this already amazing film. Woo. Life... she is good.
Posted by bonnie at 11:40 PM | Comments (0)
Quizzie from Sterling
I grabbed this quiz from Sterling. His answers are fun! Mine... mostly boring. Hee!
Q: WHAT MADE YOU SMILE YESTERDAY?
A: Yesterday as in Sunday? Technically yesterday? Um... flirting and wrestling with my hubby. He's ticklish (and I'm not), so I always win. But he did elbow me in the nose. Bastid.
Q: WHAT WERE YOU DOING AT 8 THIS MORNING?
A: Aw, crap. I guess I have to use Sunday morning, since this morning hasn't had an 8am yet. Um... I had gone to bed at 7:10am, so I was probably just hitting some good sleep.
Q: WHAT WERE YOU DOING 15 MINUTES AGO?
A: Eating grapes and making my HILMMAKS list for a meeting tonight.
Q: SOMETHING THAT HAPPENED TO YOU IN 1995?
A: Started working on my Master's Degree. Oh, wait... that didn't happen TO me, did it? Hmm... What happened TO me? Hmm. Man, if life is a series of choices, does anything ever really happen TO us? I'm gonna stick with the answer I gave first.
Q: HOW MANY THINGS DID YOU DRINK TODAY?
A: One thing. Water. And lots of it.
Q: WHERE DO YOU KEEP YOUR CHANGE?
A: In the ashtray of the TicTac.
Q: BEST ICE CREAM FLAVOR?
A: Ben & Jerry's peanut butter cup.
Q: SOMETHING YOU ARE EXCITED ABOUT?
A: The HILMMAKS meeting and Keith's most-recent booking (he may actually make the good SAG insurance this year. He's on fire. YEAH, baby).
Q: WHAT SIZE SHOE DO YOU WEAR?
A: 8 1/2. But I wear two of them.
Q: DO YOU HAVE ANY SISTERS?
A: Only emotional ones.
Q: ARE YOU VERY RANDOM?
A: Eh... probably not. Though I can be. It just has to be something very non-random about which I'll appear random. Does that make sense?
Q: DO YOU WANT TO CUT YOUR HAIR?
A: Good Lord, yes. I always wait WAY too long to get my hair cut. Way. The dude always lectures me when I go in for a trim. "You can't GO six months between haircuts, darling!" Whatevs. It's a very low priority.
Q: ARE YOU OVER THE AGE OF 25?
A: By 11 years! Woo!
Q: DO YOU TALK A LOT?
A: Constantly.
Q: DO YOU MAKE UP YOUR OWN WORDS?
A: See Urban Dictionary. I submitted so many words, I became an editor.
Q: ARE YOU TICKLISH?
A: Nope.
Q: ARE YOU TYPICALLY A JEALOUS PERSON?
A: Not even a wee little bit.
Q: NAME A FRIEND WHOSE NAME STARTS WITH THE LETTER "J":
A: Joni. Not just a friend... she's My Cousin Joni (MCJ). Woo!
Q: WHAT DID THE LAST TEXT MESSAGE YOU RECEIVED SAY?:
A: I don't text-message.
Q: DO YOU CHEW ON YOUR STRAWS?
A: Nope.
Q: DO YOU HAVE CURLY HAIR?
A: Nope.
Q: WHAT IS THE NEXT CONCERT YOU'RE GOING TO?
A: Goodness. I haven't been to a concert in two years--and that was the Pixies concert at the Greek (effin' greatness) which was a huge big deal for me. I can't even guess what big event would inspire me to go to another concert at this age (honestly, you can get too old for the whole thing... and suddenly prefer wine and cheese and a picnic blanket at the Hollywood Bowl with all of the other old timers).
Q: WHO IS THE COOLEST PERSON IN YOUR LIFE?
A: Bob Brody. No question about it.
Q: WHAT IS THE LAST THING YOU ATE?
A: Grapes.
Q: WHAT WAS THE LAST THING YOU SAID TO SOMEONE, AND WHO WAS IT?
A: "I love you," when I put Keith to bed and came back to work.
Q: DO YOU WATCH TV?
A: Constantly.
Q: HAVE YOU SEEN THE MOVIE DONNIE DARKO?
A: Nope.
Q: DO YOU HAVE WORK TOMORROW?
A: *snork* I have work every day. I love working.
Q: EVER BEEN HUNTING?
A: Scavenger hunting. Does that count?
Q: IS MARRIAGE IN YOUR FUTURE?
A: Only to the extent that it already is in my life. ;)
Q: WHEN WAS THE LAST TIME YOU SAID "I LOVE YOU" AND MEANT IT?
A: Just a couple of hours ago. (Oh, and PS, I mean it *every* time I say it, even when I do the corny "LYMI" thing online. I'm serious about my love-giving.)
Q: WHAT SHOULD YOU BE DOING RIGHT NOW?
A: Filing away my "used material" for Showfax columns. I have a binder of "raw material" that is pretty well organized (thank you, brilliant casting intern Julie for working on headshots one day so that I could file column stuff, plus sides and contracts from previous projects I've cast), but my "used material" archive needs attention. Stupid busy work that doesn't impact anyone other than me (and my eternal quest to protect copyright for the future me) but I need to do it.
Q: DO YOU HAVE A NICKNAME?
A: Only about a zillion.
Q: DO YOU BELIEVE IN LOVE AT FIRST SIGHT?
A: Oh, yes.
Q: YOUNGEST PERSON IN YOUR FAMILY?
A: Um... wow. Depends on how "family" is defined. Relatives? All of them? Eesh... I have no idea who has had a kid recently. My immediate family? That'd be me. I'm the baby. MY FAMILY? That'd be Quinn, my stepson.
Q: IS DRUG FREE THE WAY TO BE?
A: Ugh. Unfortunately, yes. I enjoyed a healthy decade-long prescription drug addiction and MAN do I miss those good pain killers! But my personality paid the price for that junkie-self I was and I'm lucky to have any relationships that withstood that horrific time of getting clean in '98. Happy to be straight now... and man, am I glad booze is legal! ;)
Q: ARE YOU A HEAVY SLEEPER?
A: Hmm. Probably. I only sleep a few hours a day, but when I sleep, I'm pretty much down for the count (even if that count is only 180 minutes).
Q: LAST TIME YOU USED A SKATEBOARD?
A: Um... 1986, when I bought one for my boyfriend's birthday (autographed by Christian Hosoi).
Q: WHAT ARE YOU LISTENING TO RIGHT NOW?
A: Listening to (and watching) The Amazing Race (TiVo'ed). Still mad that TiVo bumped off all of my old "feel good favorites" to grab the new season's premieres (although I do love me some Studio 60 on the Sunset Strip and Shark).
Posted by bonnie at 12:21 AM | Comments (5)
September 23, 2006
Gratitude
Y'know what I haven't done in awhile?
Just exclaim from the rooftops how much I love my life. So, let this count as me doing that. I seriously have a rockstar life with loads of love and blessings. Whether I say it or not, I am grateful EVERY day to have this gift.
Posted by bonnie at 2:55 PM | Comments (12)
September 22, 2006
Car vs. House
Oh man. This is rich. Y'know those news stories about cars flying into homes and barreling through? Well, welcome to our 'hood today.
Just before 7:15am, there's a huge jolt to our building. It can't be an earthquake, though it feels like it might be. No... something has hit US. WTF, right?
Keith, who was sleeping in the bedroom, launched into the livingroom and to the front window, where I'm seeing a Volvo far, far "forward" of the other cars parked out front (including the TicTac).
I say, "Oh my GAWD! She hit the building!" (And I know she hit the frame because it was too big a jolt to have just been the garage door.) And then I watched her get back into her car and begin to back out. I asked Keith, "Is it okay for her to just leave?" And he, looking carefully at who this bird is, said, "Sure. It's her building."
Yup. The lady we make our rent check out to each month just creamed Bob's garage (and if you know Bob, you know he keeps his LIFE in there, so this should be interesting). Her son (our landlord) is now down there, inspecting the damage. So far, in the game of Russian Senior Citizen in Volvo vs. 1963 eight-family brick two-story dwelling, the score is 1-zip.
Posted by bonnie at 7:44 AM | Comments (6)
When Andy Dick Arrives, It's Time To Go
Maybe everyone else in Hollywood knows this, but I'm pretty new to The Big Hollywood Private Party thing. So, you have to understand, when Keith and I arrived at the Stone Rose and my name was *actually* on the list, I was already thrilled and amazed. (No, it's not that I thought Jessica was "just being nice" -- heck, she'd invited me even before I'd interviewed her -- it's just the usual nervous doing something new for the first time thing.) But there are pretty much always random famous people at industry parties.


First up,
Greg Grunberg
. We'd been at the party for about an hour. We'd done the cool schmooze with most of the film's stars and crew members, plus a few of Jessica's best friends (all of whom were really thrilled with
the article I had written
) and a couple of actors she's hoping to have "break out" with my help (hey... if I can help, GREAT! I'll try). We'd had a couple of cocktails and a few nibbles of the yummy food they kept putting out, and found a great little spot to sit on the awesome patio. Soon, another couple leaned over, introduced themselves (I think we all joked about the shrimp or something), and when Greg came over to join them, he was introduced to us as well. Shake hands, all cool, blah blah blah. So, he's not really involved with this project but he knows the people. Same as me at this point, right? Right. No weirdness.
And then there's
Kevin Sorbo
. Kevin Sorbo? Really? Hmm. Well, that's kind of cool. I can't figure what his attachment to this group might be (nor is it any of my business to do so, really), but he's enjoying himself and people are enjoying him, so I figure maybe there's some other project in the works and that's just how this town works. Or, heck, maybe people are just friends with famous people and invite them like anyone else. It's just that it's a little odd somehow. And it shouldn't be (and it isn't, when I know the celeb... but it's weird when I don't).
So when
Alfonso Ribeiro
shows up, it's getting a little late. We've now had more than a few cocktails, Keith has told "the luckiest man in the world" story, my DVD cover has been autographed by a half-dozen members of the cast (and Jessica, of course), and I've been pegged as "and guest" in a handful of photos by random photographers. Fair enough. Alfonso is working the room. Keith approaches him to remind him that we know people in common (Alfonso directed an episode of a TV show our friend starred in, and we went to a taping, blah blah blah) and it's clear the man has women on his mind (and Keith's in his way). Very funny watching someone who shouldn't have to work at it having to REALLY work at it (it's like being at a college bar at last call and seeing the BMOC doing whatever it takes to go home with someone... even though he should be able to go home with anyone anytime anyway, right?).
Enter
Andy Dick
. Now something happens. Most of the crowd has gone by now. The servers are clearing off the tables to make room for these enormous cotton candy platters and other yummy dessert items. Everyone is hugging Jessica and her publicist goodnight and saying thank you and congrats. Most importantly: The tab has been closed. It's like Andy Dick walks in and The National Anthem plays on an old-timey TV station (sign-off 'til morning). But it gets louder, more frenetic, and bizarrely more "Hollywood" all of a sudden. I feel like I'm at a rave. Still, I head over to Andy to ask whether his recent emails to the director of a film I'm casting are actually coming from him (and I should be approaching him about doing the project) or not. "Yeah, I don't really DO the online thing. If she's hearing from 'me' through MySpace or something, it's my web guy, not me." (Note to self: Never have someone think they're hearing from "me" when it's really "my people" doing the correspondence. At least be true in that respect.)
So, maybe the rest of the world knows that when Andy Dick arrives, it's time to go. I learned it for myself on Monday. So, we left the
Stick It
DVD party and went to
Dan Tana's
, where I spent the rest of the night groping my friends, slamming too many free drinks, and talking about Oliver Freaking Stone.
(And, apparently, where I lowered my tolerance to the point that, come Wednesday morning, I was laid out with some sort of flu that I'm still fighting. Bleh. Oh well... well-earned, I s'pose.)
Posted by bonnie at 4:21 AM | Comments (5)
September 21, 2006
Ever have
one of those days in which you consume a bottle of NyQuil, sleep sleep sleep, watch a little 90210, eat some ice cream, cry and moan, miss out on dinner with one of your favorite managers, feel too sick to hit a showcase, blow through half a box of Kleenex, have your deepest thought idle somewhere around "all of this year's ANTM contestants look like previous years' ANTM contestants," but still have to handle major negotiations on a contract for an actor whose shoot begins in 24 hours?
No? Just me?
Ugh.
Posted by bonnie at 7:23 PM | Comments (4)
September 20, 2006
Weird Timing
Okay, so I went looking for an image (from a previous blog entry) of a bottle of NyQuil (turns out, all I had was a bottle of DayQuil, which isn't what I'm taking so it's not a useful image right this moment) and realized that almost exactly one year ago, I was sick like this.
What is UP with that weird timing?
So odd! I'm just pounding the NyQuil hard and staying cuddled up under my favorite wedding gift (the blanket the Tooles made for us) and hoping to get past this pretty quickly. Seems my over-zealous celebrating on Monday night took my resistance level down enough to get me all-out sick. Bleh. Oh well... life is good otherwise.
Posted by bonnie at 3:24 PM | Comments (11)
September 19, 2006
Hmm.
I've never watched the show, so I'll have to take this quiz's word for it. (Nabbed from Tara the Great.)
Which Grey's Anatomy Character Are You?

You are Christina Yang. You are incredibly determined and very blunt... yet somehow very likable
Take this quiz!


| Make A Quiz | More Quizzes | Grab Code

I am mad at my TiVo. It taped so much stuff for me that it started bumping shows off. Dammit! I had saved some really great stuff just to have when I was bored and needed something fun to watch. All gone now. Dammit. I know it's my fault for having tried to grab all of the first episodes of the new shows and stuff (and having had like no time to watch anything lately), but dangit!! Grr.
Oh, in GOOD news, apparently I won KiKi's 2006 Lindsay Firth Jam Out with Your Clam Out Competition. I am honored. Truly. I have so many people to thank. So much of my life has led to this point, one at which I have been able to come up with so cheeky a phrase as to win this prestigious award. I can only hope to be a contender again next year. *sniffle*
Posted by bonnie at 11:22 PM | Comments (5)
September 16, 2006
New Favorite Commercial
Seriously. This has to be a joke.
I mean, it's probably a decent idea. You put your bra on this thing that helps it keep its shape in the wash. Okay. Fine. (Um, but doesn't your bra GET its shape from your hooters? Yeah... mine does. But anyway....) The BEST part of the commercial is the part where they show the different CUP SIZES for this contraption.
There's B-cup (above) all the way to D-cup (below). (Sorry, A-cuppers. You get no Bra Smart to help you.)
And, of course, I know you want to watch it now for yourself, right? Hee!
Posted by bonnie at 5:19 PM | Comments (9)
September 14, 2006
Hollyweird
This town is... odd. It's complex. It's very, very interesting. Yeah. Let's say that.
I mean... I guess it's nothing surprising in this town that someone who, three years ago, made it VERY clear that you were pond scum in her book doesn't hesitate to make contact now, leading off with, "Wow! You've done so many wonderful things in such a short period of time. I always knew you had it in you! Hey... could you lend a hand? I'm hoping to make some headway in the industry and I really think you would be a great person to mentor me," without so much as a, "I know we didn't end on the best of terms," or, "I was a real dick after that whole thing went down."
Nothing surprising, maybe.
Ballsy, hell yeah.
Oh, and will I help? Of course! *I* don't burn bridges. I just blog about them. ;)
Posted by bonnie at 6:20 PM | Comments (12)
September 12, 2006
12 of 12 for Sept06
Yo! It's 12 of 12. And I had the most boring day ever (at least in photos--honestly, it was a pretty significant day in terms of the stuffs I can't make public just yet). New to 12 of 12? Visit Chad's site for the lowdown. Want to see my previous attempts, use that 12 of 12 category link on the left margin of the main page. Hope you did your own 12 of 12 and that you'll share with the world! As for mine, let's get to it (click any photo to enlarge).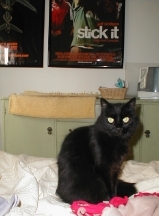 8:15am: Salema is in bed with me, asking me to stay just a little bit longer. "Please," she says. Sorry, dear. Time to rise. But thanks for shacking with me just the same.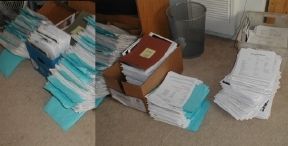 10:45am: Good morning headshots! (Yes, I cobbled two photos.) Wow! There's a bunch of headshots there, eh? (Believe me, that's nothing. I have another crate or two in another part of the room. But it's time to purge.
Bless my intern
, she's helping make this happen. I must, finally, throw out headshots... and the criteria is getting brutal.)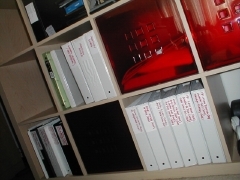 10:45am: Happy casting binders! Seriously, I love love love being organized. It is totally worth the time and effort to get those deal memos, SAG contracts, audition schedules, cast lists, and sign-in sheets filed away in some decent manner. Ahhhh.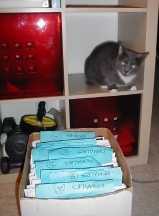 11:15am: Thwok loves it when the cubbies are empty (which is almost never). Notice the chew-marks on the file box. That's what the kitties think of this particular batch of headshots. Rrrrr!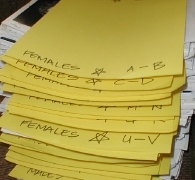 11:45am: My "A-List" actors. This is the file of actors I've cast or who have come soveryclose to being cast (like, we made the offer but the deal fell through or we had to do some sort of recasting for whatever reason). This is my go-to stack, when I need a quick list of "great actor" names. It's more than just the "name actor" list I keep on the computer. It's the actors I know will kick ass... every single time. These are my rockstars (and my hubby has created a Wiki database for me to use in cataloging them all, which has consumed most of my time today... but it's so AWESOME).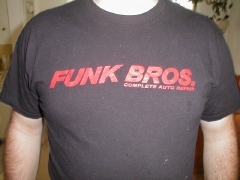 11:55am: Said hubby leaves for gaming and acting class--during the latter of which he'll have to do a comedic scene as an auto mechanic. He's wearing a shirt that was given to us by the folks who fix the
TicTac
(bless its 17-year-old soul).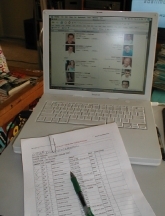 1:20pm: Don't ever let anyone tell you that scheduling actors for prereads is an easy task. I think I'm going to start giving big, wet, sloppy kisses to the actors who get their audition notices, download their sides, confirm their auditions, and just show up and do the damn thing. I'm so OVER trying to reschedule people. (And only slightly less OVER a producer with daily add-ins... but she knows that. *snork* Dude... we now wait 'til callbacks. K?)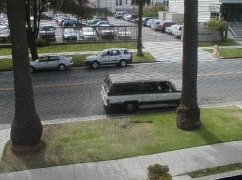 2pm: I've now ordered from
PinkDot
, so I'm up at the window when I hear a car door slam out front. Nope. Not them yet. But I do spy an example of what will MAKE me go postal someday. Seriously, if you ever hear of me going all gunz-blazing on people for no good reason, this will be why. If you have a large car, PARK IT SO THAT ANOTHER CAR CAN PARK NEARBY. Don't be a jagoff who takes up TWO spots with your own damn self! You WILL feel my wrath.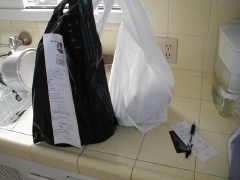 2:12pm: Pink Dot has arrived. Life, she is good. Quick snack then back to work.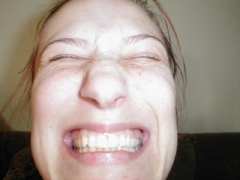 2:20pm: Just got some really good news that I can't even talk about yet (even had to tell Keith to HUSH when I called him about it, b/c he does love to blab sometimes and he does have class tonight, which is a big audience for sharing). This is me unshowered and way too happy. Sooo lovely!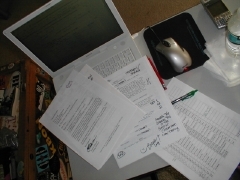 4:44pm: Making notes about the audition sides we'll need for Friday's prereads. Reviewing the schedule, trying not to get stressed out. Feeling good about the sessions. I have happy producers. Just got a fax from the director of another project. Busy Bon.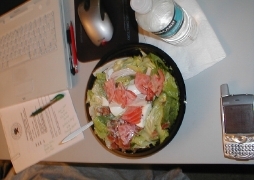 6:15pm: Time for dinner. California Cobb Salad minus the cheese and egg yolks. Yum! Dealing with some rescheduling issues that stress me out, but for a good reason.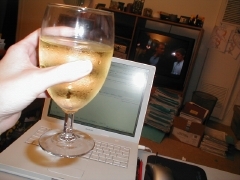 7:24pm: This is my official BONUS photo: "BREAK" (and this is "How I take a..."). A GREAT night of TV.
Nip/Tuck
(thank you, east coast feed) feeds my porn fix,
Big Brother
is coming soon, and then there's
Real World/Road Rules Fresh Meat Challenge Reunion
(which my TiVo missed yesterday, bastids). And now, as I upload, it's
The Minor Accomplishments of Jackie Woodman
, which rocks. Nice cool glass of celebration and looking forward to tomorrow's big-ass cool things!
See? Boring 12 of 12. Maybe next month will rock. Thanks again, Chad. It's fun, even when it's boring!
PS--Happy birthday to my superstar niece Tiffany! LOVE YOU!
Posted by bonnie at 10:26 PM | Comments (16)
Equal Opportunity
Visit Dot Comedy and support Equal Opportunity (starring my friends Assaf and Camille). Camille says: The film is only 6:30 including the (fun) credits which are probably half the film. Please vote for your favorites (hopefully EQUAL OPPORTUNITY) at DotComedy.com and pass it on. THANK YOU! We have high hopes of making it into Sundance and the HBO/US Comedy Arts Festival, and more...
EQUAL OPPORTUNITY
Strong Work Ethic. Attention to Detail. 80WPM. And a Racist.
Directed by Howard Duy Vu
Written by Sameer Asad Gardezi
Produced by Camille Mana
Casting Director Freddy Luis
STARRING
ALANNA UBACH (Legally Blonde 1&2), SKYLER STONE (Comedy Central's Con), TOM LENK (Buffy the Vampire Slayer), ALDIS HODGE (CW's The Game), CAMILLE MANA (UPN's One on One), ASSAF COHEN (Flightplan), JOEY GNOFFO (Benchwarmers), MICHAEL GOLDSTROM (Comedy Central's Porn 'n' Chicken), FELIX PIRE (Phat Girlz).
Great example of actors going out there and making it happen for themselves! Way to rock, gang! Hope you WIN!
Posted by bonnie at 10:56 AM | Comments (1)
September 10, 2006
Classes
For any of you who have gym memberships...
What are the best classes? ("Best" for me means "not crowded" and "good for larger people" and "fun".)
I think it's time to take advantage of my membership beyond the treadmills and bikes. Where to start? Suggestions?
Posted by bonnie at 9:48 PM | Comments (9)
12 of 12 is Tuesday
Here's your 30-hour warning that 12 of 12 is coming.
Get your cameras ready. And on Tuesday, start snappin'. Woo!
Posted by bonnie at 8:46 PM | Comments (0)
September 9, 2006
LonelyGirl15 Exposed
I'm sure most visitors to the BonBlogs have already seen this news (or figured it out before the official word came down today), but the latest attempt at cyber-marketing (ala The Blair Witch Project or even Snakes on a Plane) has been exposed just a month before the film was to be released (if you believe the coded messages that 10, 12, and 06 mean anything).
The latest confession to stun the entertainment world is an unusual one: "We are filmmakers." The team behind the lonelygirl15 YouTube mystery has come forward, claiming that lonelygirl15 is part of their "show" and thanking their fans effusively for tuning in to "the birth of a new art form." They are not, they insisted, "a big corporation."
Article in today's
LA Times
with the admission of involvement as high up as CAA
here
.
Lonelygirl15 appears to be an innocent, home-schooled 16-year-old, pouring her heart out for her video camera in the privacy of her bedroom. But since May, her brief posts on the video-sharing site YouTube and the social networking hub MySpace have launched a Web mystery eagerly followed by her million-plus viewers: Who is this sheltered ingenue who calls herself "Bree," and is she in some sort of danger — or, worse, the tool of some giant marketing machine?
Yesterday's piece
here
.
Honestly, I think it's brilliant. And while I totally understand the emotional turmoil of those who got suckered in (it happened to me two years ago while watching The Buried Secret of M. Night Shyamalan and I have not forgiven the marketing geniuses (and yes, they're geniuses and I respect them) behind that, despite having befriended one of them in the time since I got punk'd), I think it's brilliant and wonderful and it just reminds me why I taught Media Literacy at Athens Academy nearly a decade ago. Kids (and adults too) need to learn that media is all about manipulation. That's the only way they'll ever harness its power for themselves (which is the goal).
Make media work for you. Don't get pissed when it suckers you. Learn from it, build on it, let it propel you to greatness.
Posted by bonnie at 11:28 AM | Comments (0)
September 8, 2006
Our Celebrity Faces
This is cool.
Posted by bonnie at 4:39 PM | Comments (3)
September 7, 2006
Faith's PRI Show Announced
Phew! It's official. And it's been renamed (it was "The F Word," with the F standing for Feminism). (That's another show. Still in play. Nevermind.) Press release is here.
MINNEAPOLIS--(BUSINESS WIRE)--Sept. 7, 2006--Public Radio International (PRI) announces the creation of "Fair Game from PRI with Faith Salie," a high energy, interactive news and entertainment program produced by PRI and based in New York. Slated to premiere nationally this fall, "Fair Game" is hosted by the irreverent Faith Salie, Harvard alumna, Rhodes Scholar and star of "Significant Others," Bravo's critically acclaimed improvisational sitcom. With "Fair Game," PRI again moves the industry in a new direction, designing the hour-long weekday evening program as a hybrid of the satirical news and late-night variety show for a young, culturally connected, politically savvy demographic.
Congratulations to my dear cousin
Faith Salie
. We will miss you here in LA, but NY is lucky to have you (and yes, I will visit). Kick ass with "Fair Game." Public radio never looked so good.
Posted by bonnie at 9:14 PM | Comments (1)
September 6, 2006
Bon (and a Bon-Cast film) at LAISFF
I hope y'all will come out and join me at the LAISFF this (and next) week. Very excited to be taking part both as a panelist and beaming-happy casting director of a film at the LAISFF for the second year in a row! Woo!
10th Los Angeles International Short Film Festival
ActorsAccess.com Panel Discussion (The Access Revolution, 10:45am, Friday, September 8th, Arclight Cinemas #9).
Queen of Cactus Cove (Program 91, 3:30pm, Tuesday, September 12th, Arclight Cinemas #9).
The panel discussion is FREE--just show up! Tickets for the screening are $10 and are available at the Arclight Box Office or at LAShortsFest.com.
Arclight Cinemas (6360 W. Sunset Blvd., between Vine and Ivar, Hollywood).
Posted by bonnie at 2:10 PM | Comments (1)
September 4, 2006
Thanks, KBell
This made my day.
Awesome.
Posted by bonnie at 1:11 PM | Comments (5)
Keith's Dream
So, I come to bed (after turning in my column) at 4:30am and Keith wakes up to tell me about a dream he just had.
Seems he was riding a motorcycle but didn't have a helmet.
So he had Archie riding on the handlebars.
That way, Archie could swat away any bugs that were headed toward Keith's face as he drove.
There was theme music.
How cute is it that my husband dreams in buddy movies? And that his buddy is our cat?
Posted by bonnie at 10:15 AM | Comments (2)
My Old Boyfriend Is Better Than My New Boyfriend
Look at the cool wall Chip has in his house.
Why won't Keith let me do this here? *stomp* *pout*
Posted by bonnie at 12:24 AM | Comments (4)
September 3, 2006
Taking a Break
I've been bitching too much lately. I've been complaining. A lot. I've been seeing the negative in the world and that's seriously not like me 90% of the time. So, it's getting annoying (and I'm sure not just to me).
I've also been craving drinks. Not just drinking socially. Not just overindulging. Craving. And I can't tell if it's a temporary physical need that comes from an emotional desire to escape or if it's the beginning of a problem.
But let me state for the record: I love drinking. Love it. I think it's fun and social and cool and one of the best parts of being a responsible adult who works freelance. I'm not like a college kid who can't wait for the weekend to go out and par-tay. I like the celebration of the every day. And I like being able to shut my brain off sometimes too.
But I'm tired of complaining. I'm tired of needing a drink to escape from the things that make me want to complain. And I'd like to give my diet and exercise regimen a chance to have some results. I remember noticing how great a friend looked after a few months of diet and exercise (I won't out him, here) and having him counter with, "I had to take a break from drinking to really get the results I wanted." I admired his self-discipline.
So, with just over 100 days left in the year (and remembering how I completely changed my body and my spirit in as much time eight years ago), I'm considering doing a major self-improvement campaign. I already exercise every day. I eat gluten-free and drink tons of water. I don't drink sodas or coffee or any of those things that tend to derail people. I'm currently the healthiest I have ever been, despite being a good 50 pounds overweight. My heart, my lungs, my knees, my endurance... all outstanding. Hair and nails strong and long. Skin flawless. And I am blessed with a kick-ass hourglass figure, even though it needs to reduce by about 20%. I don't have "problem areas." I'm just a big girl.
Here's the thing though. I can't tell if I need to do a T-totaller "give up drinking for the rest of the year" thing or if I can do like I did eight years ago and give myself "reward days" every now and then (days on which I can be less strict in all areas--food, drink, exercise requirements). I kind of like the idea of forcing myself to be 100% for 100 days, but I also can't imagine that it's a practical expectation. What I DON'T want to do is decide to be "perfect" then choose to have a night off and turn that into an excuse (ala: "I failed. I suck. Screw it. It's all over").
Man! I just feel so good even imagining doing 100 perfect days. It was such an amazing thing, watching my body change when I did a 100-day campaign in '98 (note: I did not do 100 "perfect" days back then... but I also had a very different lifestyle, being a full-time PhD student at the time).
What to do, what to do? Hmm. I guess I'll just start with one day and see how that feels. I guess I'm blogging about this as a way of holding my feet to the fire (although I can already tell I'll get annoyed by questions of, "Hey, how's that 100-day thing going?" if things AREN'T going well... so, I'm not sure what my plan is. Maybe I don't have a plan. Maybe I'm looking for suggestions? Hell... I'm just glad I'm not bitching in this entry. I am sooooooo over the complaining. That is a BAD habit, for sure).
Posted by bonnie at 12:55 AM | Comments (5)
September 2, 2006
Explain this:
My husband spent $100 on a book. It arrived today. He carefully cut into the package. Removed the book. Looked at it lovingly. Thumbed through it. (All of this took about 90 seconds.)
He then put the book back into the box and taped it back up.
"Sending it back?" I asked.
"Nope."
He labeled the box "Champions 25th Anniversary Edition" and put it up on a very high shelf.
"You don't even want to take a picture of it?" I asked.
"Nope."
Ooooookay.
Posted by bonnie at 1:32 PM | Comments (3)
Okay...
Now I'm pissed.
Just found (thank you Google) a trailer for a film I cast up on a website. This is the film I was told (a few days ago) was dead.
Yes, it's possible they've only shot a bit of this film and it's just a trailer to shop around for money.
But the word I got was that it was OVER. And yes, I have an effin' back-end deal. Which is why its completion matters.
More later. Gonna bitch for the next few hours, thankyouverymuch.
Posted by bonnie at 12:19 AM | Comments (2)
September 1, 2006
Happy September
As Keith and I went for our walk last night, he mentioned that yesterday was Maria Montessori's birthday.
So, happy birthday to the woman responsible for the way my brain works and the many, many, MANY hours I spent in detention once I left her program for public school.
Posted by bonnie at 4:18 AM | Comments (1)