« Too much? Too little? Just right? | Main | Words That Are Designed To Hurt »
January 24, 2007
A NEW TOMORROW Premiere, 2/3/07 9am!
I know, I know. Saturday 9am is way early, but believe me, this is gonna be worth it.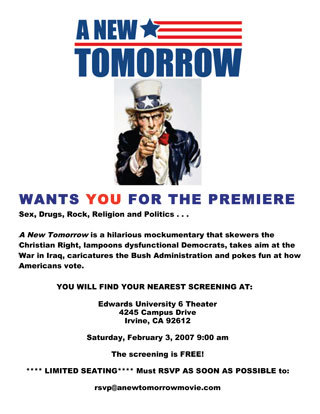 A New Tomorrow (a SAG indie feature film I cast in 2005) is screening in Irvine at 9am on Saturday, 3rd February.
Hell, I'm thinking mimosas and Krispy Kreme donuts are in order!
Details about this awesome mocumentary are at MySpace.com/ANewTomorrowMovie and ANewTomorrowMovie.com. C'mon, everyone loves a good mocumentary in the morning!
RSVP early to rsvp@anewtomorrowmovie.com and we'll see y'all there! Woo hoo!
LYMI,
-Bon.
Posted by bonnie at January 24, 2007 12:06 AM
Comments