« Uma Update | Main | Uma Update »
March 20, 2007
*blush*
Oh, how happy am I?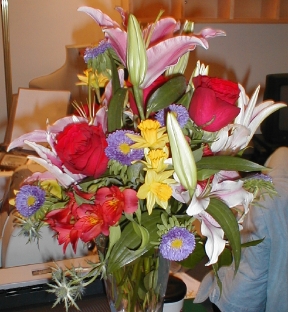 Look at what I got today! (Click to enlarge.)
It's just about my favorite combination of gorgeous flowers EVER. Seriously, this is a BEAUTIFUL arrangement from Venice Flowers (well done, y'all. GORGEOUS, healthy flowers with so much style and beauty)!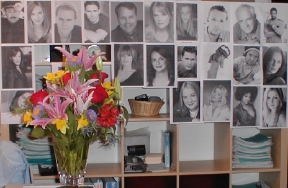 And why did I get it? (Click to enlarge.)
Yup. As if the gift of working with MY FAVORITE PRODUCTION TEAM EVER (and that is REALLY saying something... I've worked with some superstars) weren't enough, the Broken Windows team sent me flowers today.
Seems they like their cast. ;) (Hee! I do too. I'm tickled pink at how wonderful these past four months working on Broken Windows have been. I cannot rave ENOUGH about how cool these guys are.)
So, in a year or so, when the buzz behind Broken Windows is about the level of Little Miss Sunshine, just know that I will really be blissed out. I remember seeing that film and saying, "Wow. I can't wait to cast such an amazing film."
And now I have.
Congratulations to the cast and crew. I know y'all have the bulk of your work stretched out ahead of you, as I hand off this cast to you and officially clock out, but I can't begin to fully express how wonderful this gig has been. I am a better casting director for having had this journey with you. THANK YOU for trusting me with such a beautiful script. And actors, THANK YOU for your love for this project and your faith in me to continue bringing you great material.
It has been my pleasure.
Posted by bonnie at March 20, 2007 11:45 PM
Comments
Pretty, pretty flowers, and so well deserved for a job well done.
(And eeeeeeeeee! about Mary-Margaret Humes. Mrs. Leery!!! On one of the trips that my friends & I made to Wilmington, we met her & she was just so incredibly gracious and sweet to us.)
Posted by: Hannah at March 22, 2007 7:01 PM