« Uma Update | Main | Long, Exciting Uma Update »
March 23, 2007
Kitties at Home
So, Keith repurposed a cubby in the headshot system area.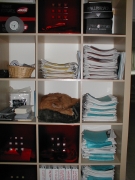 Click to enlarge.
Yes. Keith has an interesting sense of humor.
Here's Archie a little closer in.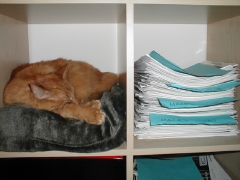 Toooooo cute, eh?
But wait! I asked Keith to get a wide shot, to include Thwok on top of the kitty condo (which is on top of the cubbies).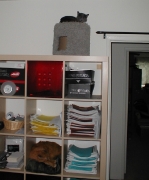 Now, look at the larger version of this photo. Look at the top right corner... way in the distance. On top of the bookcase in the den. See that? It's SALEMA and her hauntingly lovely eyes, glowing from the other room.
That's how our kitties kick it at home. Awwwwwwww.
Posted by bonnie at March 23, 2007 9:49 PM
Comments
Oh how there are days that I wish I too could crawl into a cubby hole and sleep the day away...lucky kitties!
Posted by: John's Dawn at March 24, 2007 9:20 AM
I need to install a few of those in my office. Adorable!
Posted by: courtney at March 24, 2007 2:13 PM
Whats goin on with those red ones? What are you hidin'?
Posted by: Bill Lipp at March 25, 2007 6:56 PM