« Well, I needed that! (Uma update... with video) | Main | Showcase News: Director HIRED, Call for SCENES! »
July 31, 2007
Hi. Howd'yado?
So... we've been orbiting around the right and perfect Cricket Feet, Inc., logo for, er, the better part of the whole five years we've been a corporation.
But it wasn't 'til our stars alligned with the most wonderfulestness of Colleen (CoCo) Wainwright, AKA the Communicatrix that we were introduced to this: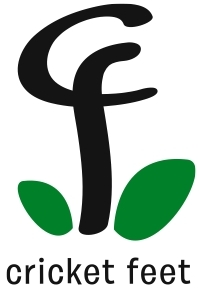 And, I'm sorry, but if there's a logo by which you should be inspired, it is THIS ONE. Holy crap. It *is* US. Wow!
So, we've been sitting on this for a few months while we neared our five-year anniversary as a corporation (now: July 2007), and well, it's time. Here she is: our "howd'yado" reboot of the Cricket Feet experience.
Whaddaya think?
PS--Probably one of my favorite days ever. Cast THREE MORE famous effin' people in this film and hired our seriously rockstar director for the November showcase. Ahh... lovin' it. LOVE-IN-IT!
Posted by bonnie at July 31, 2007 11:09 PM
Comments
Woooo hoooooo! :) Congrats, Bon! Logo looks great - website's nice and clean. Bet you're happy, huh! YAY! :)
Posted by: Julie at August 1, 2007 12:20 PM
Oh, nooooo!
I have *got* to get that logo finished off and sent to you guys.
Thrilled that you're happy with it, though. Happy clients is my fayve-oh-right kind.
Posted by: communicatrix at August 1, 2007 5:33 PM
Posted by: Beth at August 2, 2007 3:55 AM