« Concert Meme | Main | Phew! »
June 16, 2008
Happy Anniversary!
How does the Gillespie-Johnson household celebrate three of its seven years hitched all formal and such?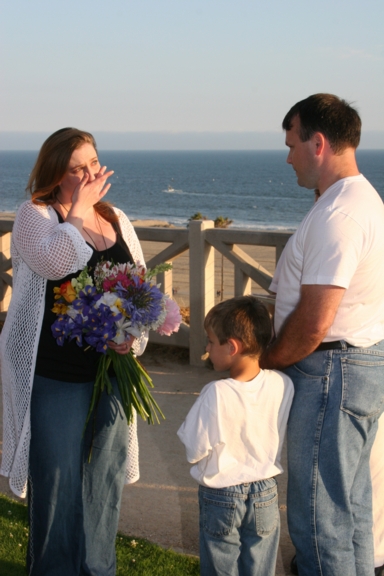 By (temp) dying Quinn's hair blue, of course!
Hee!
We're also way stoked that we now share an anniversary with a bunch of history-making gay marrieds in California today.
Just damn cool.
(Of course, Keith wanted to start the day by knocking me up and I find his love of that quest endlessly amusing. Keep at it, cute boy. If you can overpower The Pill, then God bless ya for doing so.)
*heeeeeeee*
(Still, I'm super happy to be married. Especially since I never thought I would be, this is way fun. On lots of levels.)
Posted by bonnie at June 16, 2008 6:08 PM
Comments
Now that's blue!
Congrats BTW..............
Posted by: CJC at June 17, 2008 9:51 PM
Posted by: Bon at June 18, 2008 3:32 PM
Tell the kid he doesn't have to work blue to be funny.
Posted by: Katy at June 18, 2008 9:50 PM
OMG!!!!!!
1. Hilarious!
2. It's KATY!!!!!!!!!
XO
Posted by: bon
at June 18, 2008 10:01 PM
Say I was to come to San Diego in July from the 17th to the 21st. And say I was to a)convince a brother to drive me or b)convince a brother to lend me a car. And say I was to come to LA. I wonder if, hypothetically, I might get to have lunch or some other type of sustenance with a couple of people I kinda sorta know in LA...
Posted by: Katy at June 19, 2008 8:09 PM
Absolutely!
In fact, there's a great possibility that I'll be teaching a few kid-actor acting classes in San Diego while you're in town (still waiting to hear back from the coach whose classes I'd be subbing) and that could make things even easier!! :)
But yes. Let's plan to at least make contact and SEE if we can make this intersection work out this time. :)
Yay!
Happy travels! XO
Posted by: bon
at June 19, 2008 9:47 PM
Email me for contact info!!
Posted by: Katy at June 19, 2008 10:04 PM
Post a comment