« 12 of 12 for August 2008 | Main | Yearbook Yourself »
August 21, 2008
Long Overdue Long Update
Phew! Okay, so.
I have been working on the edits for the 3rd edition of Self-Management for Actors since August began. I got my first seven chapters to proofers on August 4th. The book has 46 chapters. I continued to get chapters to my awesome proofers daily through the 15th and had all of their feedback by the 18th.
I've been entering changes and trying to cut content (the book was originally going to be 368 pages but looked like it would be 630+ pages as of the 15th) since then and--today--the 520-page *near-final* manuscript was FedExed to the final team of proofers who do the cover-to-cover read and get notes to me by the 29th.
And then this lovely book hits the printer on September 1st. And will be in stores everywhere by Thanksgiving (if not sooner).
Our international distributor tells us we've already sold 800 copies. Yay! But also: Oops. The book is now 150 pages longer than originally listed (and it's now also eight bucks more per book). Wow.
It was the last couple of days that were the most intense. I woke up at 6am Wednesday and said, "Today is the day I call failure on my SMFA3 goals." I just knew there was no way I would have everything ready in time. No way. But when I went to bed at 5am Thursday, I had logged in 22 hours of work on the book, 45 minutes nap time, and 10 minutes on Wii Fit.
I slept for four hours this morning and then finished up everything to have Keith take the manuscript to Kinko's to copy and then FedEx out. I was back in bed at 4pm and up at 7pm. So, my sleep patterns are wonky (and the heat works well with that... bleh) and now I'm feeling all buzzed and antsy. I've found that opening three weeks' worth of mail and paying a few bills has helped calm me down. Soon, I will listen to at least a week's worth of voicemails, as I've not even had the phone volume UP for at least that long. Book mode is serious focus, y'all.
In other news, the breakdown for the November 2008 Cricket Feet Showcase went out on Monday. Submission deadline is the 25th. Auditions will be held on September 8th. I'm so looking forward to meeting our new cast!! And to working with Chil and Eitan and Tamika and Keith again, as always.
I can't believe what a great couple of years it's been, doing this showcase. Just awesome.
I'm being interviewed by Spun Gold TV next week. This will mark my third televised UK interview in 18 months. First was for BBC Breakfast. Second was for UTV in Ireland. This is another London-based outfit and they're sending an actor to Hollywood and following her as she meets with people. Apparently, it is now known in the UK that I give good, "cheeky" TV in a very fun, biz-savvy manner. Cool. That'll help when we're ready to take the roadshow abroad.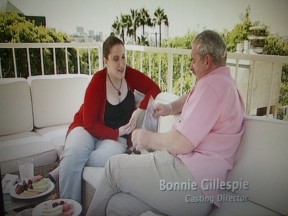 News on that: We're going to try and do some LA-adjacent tours and speaking engagements in the last two months of 2008, and then we'll head to other cities and states (and countries?) in 2009. Very much looking forward to this. Haven't been on the road in a long time.
Saturday is my 20th high school reunion. I will not be there. Two main reasons: 1. August. 2. Atlanta.
I mean, c'mon! October, I could do. But Atlanta in August? Dunwoody Country Club in August? In formalwear? Really? Nah. I'll have more fun hearing the stories, I'm sure.
Let's see... what else?
The four-week class I was supposed to teach at the Hayworth got pushed to November.
I've lost 40 pounds since Christmas. (And five inches off my waist, thankyouverymuch.)
I get to hang out with the director of Another Harvest Moon next week and catch up on all the tales from the set and plans from here.
I can only imagine the tales will be outstanding (the ones I've already heard are hilarious and touching and inspiring).
And that the plans for this film are... big. I got chills looking through the photos at the website just now. Dear GAWD, this film is going to be amazing.
I still need to read a script that's been sent to me for a casting bid. It's a $2M thriller and looks good from quick skim of a couple of pages. (Honestly, I've been so busy with the book, there's been no time to do other stuff.)
I've learned I'm really good at compartmentalizing. (I mean, I knew that already, but it's become VERY clear with all of this work on the book this month.) When I go into book mode, I'm a machine. It has been nearly three years since I've had this experience, but it really is like riding a bike. It all comes back to you and hopefully you've given yourself enough empty road to not bump into anything at first.
As with the 2nd edition, I have both the HUGE worry that I've messed up whatever was good about the book by making changes to it AND the certainty that it might possibly be the best book for actors ever written.
This "sure you suck" and "sure you rock" simultaneous opinion is pretty tough to maintain, but somehow I find a way. ;)
Okay. Not sure what's next. So much got set aside in the past three weeks that I just need to start on something... but I also need to just CHILL. Perhaps I'll play computer solitaire for about five hours straight. That'll be fun. And maybe a walk to the beach when Keith gets home, just to remember what that's like. Oooh! Or a midnight trip to the gym. A good sweat in an over-air-conditioned facility might feel REALLY good right about now.
Or maybe I need to just sit here for a minute. :) Just be.
OH!!!!! HUGE thanks to the actor who sent me free passes to the Magic Castle (I've never been!!) and also to the actor who sent me half-off passes to Glen Ivy Hot Springs (I've definitely been!!) as encouragement for working so hard on the book. :) I love you guys. Also love my friends who made me take playdate breaks once a week or so while all of this was going on.
Man, I've got it so damn good it's just ridiculous.
I hope you can say the same, everyone. I've missed keeping up with you all. Catch me up! What's going on in your world?
XO
Posted by bonnie at August 21, 2008 10:46 PM
Comments
Well, if I were in charge, I think your plan for "what to do next" would have to be: sleep some, CHILL, and take that walk on the beach with your honey. Because you have TOTALLY earned those things. That book is off(ish) your desk for a week, right? (Pshaw! to that "failure" business.) You are well within your rights to chill.
And this quick proofer says that "no way" did you mess up the good stuff.
And finally, thank you for the picture of Amber. :-)
Posted by: Hannah at August 22, 2008 7:16 AM
You totally know that Amber shot was just for you, right? ;)
I was only going to post the other two, and then I saw the Amber photo and (A.) it's so gorgeous (and B.) I knew you'd appreciate it. :) Go to anotherharvestmoon.com for more. :) Looks lovely!!
And thank you for both the re-assurance and all of the help with the book. You're awesome!!! :)
Definitely choosing to relax. Yes... clocked out on the book except for really minor things for at least a few days. Yay! :)
Love you. Have a GREAT weekend! :) XO and thanks again!
Posted by: bon
at August 22, 2008 12:55 PM
I had hoped it was for me. :-) I went yesterday to the site, and my goodness, that looks to be an impressive cast!
Happy relaxing! You deserve it!
Posted by: Hannah at August 23, 2008 6:10 PM
It may be 8 bucks more per book, but you're totally worth it...if not more. Seriously.
You really can't put a price on actual know-how, and valuable experience.
Posted by: CJC at August 24, 2008 9:13 AM
Congratulations on all your hard work (and on losing 40 lbs & 5 in)! I'm really looking forward to buying this book. I told my boss, the Executive Director of the Baltimore Theatre Alliance, about your new book, and we would both be squee'd out of our minds (to coin a phrase) to host you in Baltimore - book a space, build audience, do a little workshop. If you even get as close as D.C. or Philly, we'd love to promote it!
I just shot my first PAID on-camera principal role, and have an interview this Wed. for a casting internship with the top casting director in Baltimore, after having tried my hand at helping cast and/or produce a few small projects in the area. I am really loving the casting process - what a great job!
GO BON!!!:-)
Posted by: Cole Matson at August 24, 2008 3:03 PM
Bonnie! Duuuuude!!! That prom dress ... was EXACTLY what I wanted for my prom dress when I was a little girl. WIth the mermaid bottom and everything! Nutty! :)
Posted by: Jennie at August 25, 2008 7:07 PM
Hannah: Hee! :) Yay. Yes. I'm excited. And the relaxing was good. Now back to work. *sigh* It's just the way it is. ;)
James: Thank you. Very sweet. :) Means a lot. Thanks!
Cole: You're so awesome. I love "squee'd out of our minds." Hilarious!! Yes! Let's DO it! :)
HUGE congrats on the gig!!! That's AWESOME! And I wish you tons of luck with your interview. I know you'll rock 'em like crazy! Yay, you!
Jennie: Fun fact. NOT a prom dress! It was a PAGEANT dress! YES! I was in Miss Aphrodite (twice) at North Springs High School and both times I wore stuff that was not at all "standard." LOL They loved me at that school. Hee!
Posted by: Bon at August 25, 2008 7:24 PM
Post a comment