« The Secret to My Success | Main | Our Nonaversary »
October 12, 2008
12 of 12 for Oct2008
It's the "nonaversary" edition of 12 of 12 for 2008. (More about our nonaversary in my next blog post, I promise!) Pretty boring, as my 12's go, but here it is just the same. ;)
New to 12 of 12? Visit Chad Darnell for all the info.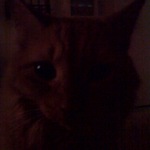 8:55am
: Horrendous night of Santa Ana winds (which I love, in theory), nose bleeds, heartburn, and panic attacks. Bleh. This is why I'd prefer not to sleep, frankly. So, as the morning wore on, Archie approached saying that he would like to know why I'm still in bed. "Leave me alone, dude. Rough night."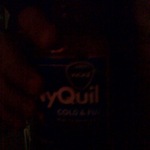 11:39am
: Keith's home from an audition and says it's time for more NyQuil. This actually helps with the Santa Ana nosebleeds, believe it or not.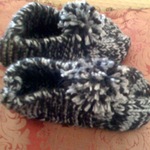 1:49pm
: It's
chillycold
, so I'm gonna put on these new supercute booties Sheila Daly knitted for me. So cute, right? :)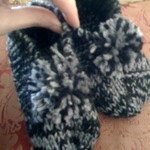 1:54pm
: She assures me they will stretch to fit, but I'm not so convinced. Now that I'm holding them up, you can see how itty-bitty they are, yeah? But still so cute!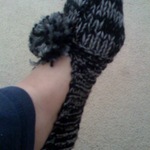 1:58pm
: Well lookie there! They do fit! Now I'm cozy *and* stylin'! Thanks, Sheila! Hee!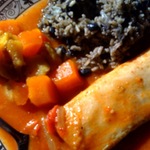 3:39pm
: Finally got my appetite back (it's amazing how a night of heartburn and nosebleeds makes you less than hungry the next day) and YUMMY! It's mahi mahi time! Yay! So good! (Of course, the plantains are my favorite part!)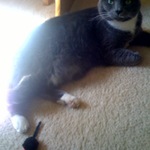 4:22pm
: Thwok enjoying the last bit of sun on the floor in the dining room today. Toy mouse nearby. "What?" she asks. Like she didn't just have it in her mouth, between her paws, killing it!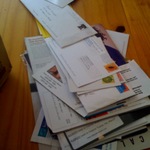 5:49pm:
Gotta deal with some mail... or am I avoiding writing
my columns
? It's just... so much mail!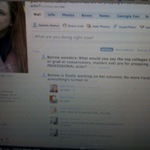 6:51pm:
One last check of
the Facebook
to promise I'm off 'til the columns are turned in! It's true! :) I just want to ask folks to tell me which are the "top schools" (BFA, MFA, conservatory, whatever) for professional actor training. (Please share your thoughts in comments, below! Thanks.)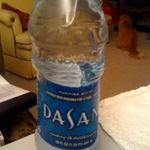 7:51pm:
This is like my 12th bottle of water today. It is sooo dry! (That's Archie in background.) My skin is dry too. And lips too. Santa Anas, you're crazy!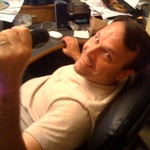 10:05pm
: Husband. Leather chair, three computers, TiVo remote. Happy. (Aren't they cute like that? So easy to please.)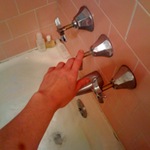 10:32pm
: Time for a shower. Yes, I have a weird bruise on my arm. Yes, we need to re-caulk the tub. (And the shower did not leave me wet for more than a second when I got out. That's how NOT humid it is, here.
Thanks, Chad, for another wonderful 12 of 12 experience. :) Kiss, kiss!
Posted by bonnie at October 12, 2008 11:21 PM
Comments
NYU Tisch School of the Arts for my BFA pick. The training and networking are bar none. My favorite professor was acting on Broadway, and my classmates, in the two years since graduation, are forming theatre companies, working as casting directors, directors, and administrators, and, of course, performing. We'd get free tickets to see top-quality work that our instructors were involved with. There's nothing like being trained in New York City.
Posted by: Cole Matson at October 13, 2008 9:48 PM
Post a comment