« Changes | Main | Charger Plate »
March 13, 2009
Mar09 12 of 12
Oh, my lordy, what a looooooong day. I really need to get to sleep, because tomorrow (er, later today) is an even loooooooonger day and with even more meetings than the three I had today. Ack! And eep! And yay! :)
So welcome back to 12 of 12. New to 12 of 12? Visit Chad Darnell for all the info. Join us! It's ever so much fun to see what's going on all over the world on a single day.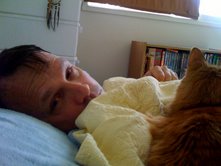 9:20am
: My beloved Keith and his beloved Archie. Good morning, sunshines! Let's start the day, please!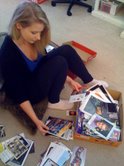 11:41am
: Awesome intern is sorting headshot postcards, a few headshots from recent scouting I've done, and a ton of "actor mail." I love Christina. She's my Velveeta Jr.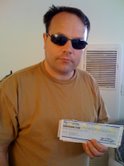 1:08pm
: So I've found a stack of checks we forgot about last week (yes, we are that flippin' busy) and that means Keith gets to take a walk to the bank and do a little deposit action. Yay, residuals! We're very happy that
CSI: Miami
is the most watched show, internationally. That recurring gig from a few years ago is really paying Keith well. In honor of Caruso, he's sporting the shades and the 'tude. (Cue the music: "YEAAAAAAAAHHHH!!!" That's for you,
LDW
.)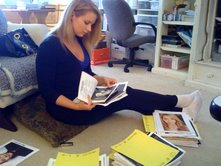 2:10pm
: Christina is still at it. Merging newly-acquired headshots into the master file of "actors who rock." (Those are the ones coded YELLOW. There are two other categories. Plus the trash, natch.)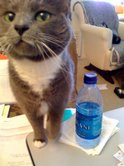 2:49pm
: Thwok is hunting. When isn't she? Oh, I know. When she's sleeping. ;)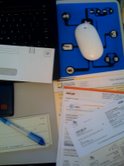 3:12pm
: Paying bills. Again. Seriously, can we pay someone to do this for us?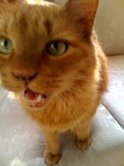 4:03pm
: Not to be outdone, Archie chirps and gets some camera time. Do you just LOVE those freckles? I sure do!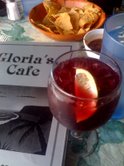 4:55pm:
So grateful to
Eitan
for having introduced us to Gloria's. Holy crap, their papusas are a thing of beauty. And their sangria ain't too shabby neither, baby!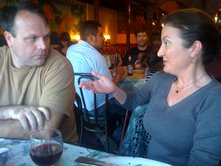 6:24pm:
Keith
and
Joanie
are wrapping up the production meeting. Yes, this looks very much like last month's 12 of 12. Both 12s were on a Thursday and our Thursdays are pretty consistent lately. Meetings. Gloria's. Meeting at Gloria's. Class Rules! :) Awesome!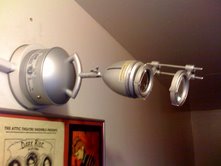 7:01pm:
No clue what this light fixture is supposed to do, but I'm told it creates really cool shapes on the wall outside, through the window across the stairwell. Huh. Okay then.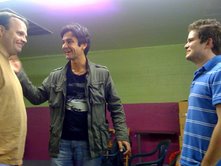 10:33pm
: Keith and Erich are--as usual--enchanted by another of Konstantin's wonderful stories. There were accents. And Keith played a role in some sort of improvised scene. I think Keith and Konstantin may have been brothers in a past life. Erich really enjoys this part of the night. ;) I do too!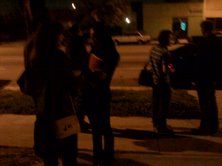 11:46pm
: Class Rules! is over for this week. Eesh, we went late. I'm bushed, but luckily both my iPhone and I have enough juice left to take one last 12 of 12 pic before heading home.

Thanks, everyone, for stopping by. And thank you, Chad, for another lovely 12 of 12 experience. :) ¡Muchos besos!
Posted by bonnie at March 13, 2009 1:25 AM
Comments
Awesome! Your cats crack me up. DON'T YOU KNOW THEY'RE THE CENTER OF THE UNIVERSE? Heh.
Posted by: Liz at March 13, 2009 4:34 PM
Of course. They do rule. I forget how that was covered in orientation. LOL
Posted by: Bon at March 20, 2009 10:35 PM
Great post! Thanks for doing it.
Posted by: Maria Notedigo at March 26, 2009 3:05 PM
Thanks for visiting, Maria! :)
Posted by: Bon at May 15, 2009 1:41 AM
Post a comment