« May 2009 | Main | July 2009 »
June 21, 2009
Self-Management for Actors is on Kindle!
Well this has been an exciting week! :)
First, the trailer for Another Harvest Moon went live at the AHM website. *sniffle*
Next, of course we have Quinn with us, and that means every day is packed with fun and love and episodes of "The Quinn Show" for Facebook.
And...
Self-Management for Actors is now available on Kindle!
And it currently has NO reviews. ;) Sure would love it if those of you who've so kindly written reviews for the in-print edition could share your thoughts on the Kindle version page. Whether it's at the Amazon.com page or not, we sure would LOVE to have your feedback. This is our first venture into the world of the e-Book, so please let us know if there's anything we could do to make the reading experience even more awesome. :)
Enjoy! And thanks for the support.
Posted by bonnie at 9:39 AM | Comments (1)
June 12, 2009
12 of 12 for June 2009
New to 12 of 12? Visit Chad Darnell for all the info. Join us! It's ever so much fun to see what's going on all over the world on a single day.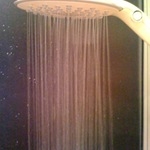 12:04am
: Ooh, I was so bummed to have to leave the Class Rules! gang and come home, but mom duties trump work duties every time. Keith had to stay for a production meeting with some of the awesome actors, the writer/producer, and the DP, so I came home, listened to the cutie sleeping, and then hit the rain shower.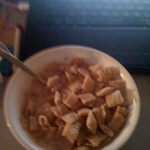 12:53am
: Had intended on going straight to bed, but gluten-free Rice Chex were calling. The question then becomes: Do I log this meal in my Thursday calorie calculator or is it a Friday meal? Hmm... Well, since I was a good 600 calories below for Thursday, we'll call it a Thursday meal.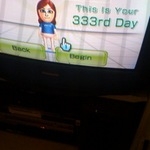 8:20am
: Aaannnndddd... we will pay for that late-night snack in the ayem. Yep. Got on Wii Fit for my 333rd day and was promptly told by the 'puter that my weight was up since yesterday. Whatever. One thing I've learned in losing over 60 pounds since December 2007 is that you cannot--absolutely cannot--get stressed out over the weight changes from day to day when the overall trend is
down
.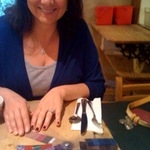 10:02am
: Brunch with the fabulous
Debbie Pollack
. (Can't quite figure out why you recognize her? Click that link. Sure. You know her. "Oh, sexy GIRL-friend!") She's recently
had her colors done
and is showing me all sorts of neat color-related discoveries. (We also talked about her upcoming
headshot session
and an
inspiring commercial workshop
she's taken.) Great to get perspective on the whole
Just Get Better
issue and how the true pros really do
get
it.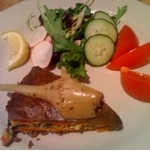 10:28am
: Brunch! It's a gluten-free six-veggie quiche. When I got home and showed this photo to Quinn, he said, "Blech." I don't blame him. It doesn't actually
look
as amazing as it is.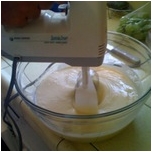 11:32am
: But Quinn has more important things to focus on. Today is his half-birthday, and we love celebrating this time together! Dad heads into the kitchen and starts whipping up something that smells sooo good. (Damn gluten.)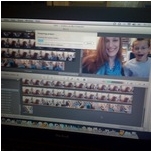 12:08pm
: Quinn has really been enjoying doing
The Quinn Show
on Facebook. Today there was an epic battle between some Pokemon critters and it was pretty dang intense there for a while. Phew! We all survived and will live to shoot another important episode tomorrow.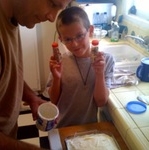 2:11pm:
The cake has cooled enough for father and son to begin the decorating process. The half-birthday celebration is coming very soon. The whole house smells like delicious cake and there is excitement buzzing all through the space. Half-birthday boy is dancing and laughing and filled with love.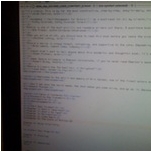 3:26pm:
Ah, but there is much work to be done. I'm tweaking the HTML code for
Self-Management for Actors
so that we can upload the file to
Amazon.com
for its Kindle delivery service. Any thoughts on how we should price it? Somewhere between $6.95 and $9.95 we're thinking. But I've never paid to download even an e-book, so this is totally out of my territory. Any Kindle users or e-book lovers care to weigh in on what a $29.95 in-print book should go for, electronically? Anyway, the code-tweaking process is tedious, as the code needs to be way simpler than any major WYSIWYG editor would churn out. I'm coding like it's 1995.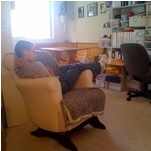 5:22pm:
I was just talking this morning with Debbie about how chilled out I am when people cancel plans on me, these days. That I will instead treasure the extra time it's giving me to do other things, experience things I might otherwise miss. And sure enough, my playdate with
The Answer B!tch
(from E! online) was called off. No
Father's Office
for me. No bitch session. Instead, I get to code HTML and enjoy watching my beautiful stepson chilling out. Awesome.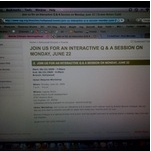 6:00pm
: Sending out a notice to the
Cricket Feet Mailing List
that I'll be doing a
Resumé Workshop for SAG iActor
on Monday, June 22nd at 7pm. Very excited to be back for more. :) Also booked another event with the
Reel Ladies
group. I definitely need an assistant. (Right,
Ryan
?)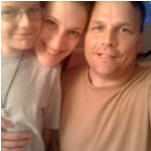 8:24pm
: Me and my boys. I am so effin' happy I can't contain myself. Jeez, this is
so
my favorite time of the year. The lovely
Helenna Santos
mentioned last night how much she dug how sweet Quinn and I are together. I said, "He softens me." It's really wonderful to have him here. To connect with the "non-career-manic" part of myself in a more complete way than I happen to connect here and there throughout the year. It's just awesome.
He
is just awesome.

As always, thanks, everyone, for stopping by. Crazy busy weekend ahead, with a playdate with Tegan and her gals tomorrow, plus the WriteGirl season-ending event on Sunday. Gotta get my column done in there somewhere! Anyway! Thank you, Chad, for another lovely 12 of 12 experience. :) Kiss, kiss!
Posted by bonnie at 10:37 PM | Comments (1)
June 8, 2009
Worst Two Days
Today is one of the worst two days of the year (the other one is a month from now).
Today is when it's been the longest since we've had Quinn with us. And a month from now is when it'll be the longest 'til we see him again.
The good news?
An entire month of hugs and love and tickles and giggles and family happy in between.
Oh, hurry up, tomorrow. Bring me the Quinn and all his love!
Posted by bonnie at 7:50 PM | Comments (0)