« The Sum of All Years: 38 | Main | Hilarious »
July 13, 2009
July 2009 12 of 12, baby!
New to 12 of 12? Visit Chad Darnell for all the info. Play with us. It's fun!
Okay. Dude.
I love my life. I love my friends. I love gruyère cheese with a fiery passion that is unnatural and understandable (thank you, Jay). And, without a doubt, I have the BEST friends on the planet. Here's how I know.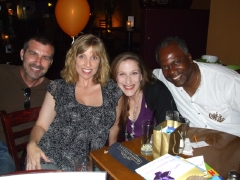 9:00pm
: People I've known for nearly a decade will come out and join me in celebration of my birthday (7/11) when I ask them to. (And even the day before. Sorry, Kim.) They'll gather 'round me and make me look beautiful, just by being near me. (L-R: Marc, Robin, Bon, Kim)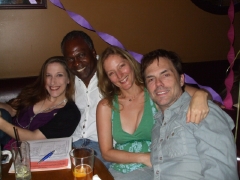 9:01pm
: Newer friends (Karla) will bring friends with common interests (Greg: Atlanta, theatre) and it'll turn out that we (Greg and I) have crossed paths back in 1993, when he directed me in one of the very last plays I did before leaving Atlanta for Los Angeles. Crazy, small world. Mostly crazy! (L-R: Bon, Kim, Karla, Greg)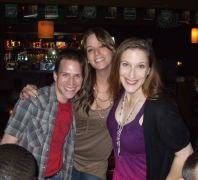 9:03pm
: Showcase alumni will turn out for the party even though their folks are in town. Yep. Tristan showed up with mom and dad in tow. Even bragged on the Facebook about teaching them the ways of the Hollywood karaoke crowd. They seemed pleased at their daughter's ability to freestyle. (L-R: Ben, Tristan, Bon)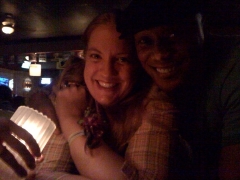 9:19pm
: Friends will come out via candlelight (thanks, Laura) for birthday awesomeness. Those who don't come will send corsages which I'll pass around to make all of my friends wear. (Thank you, Brooke.) Those who come will bring cards and treats and most of all love and songs. How CUTE are my friends? SO CUTE! (L-R: Julie, Marc)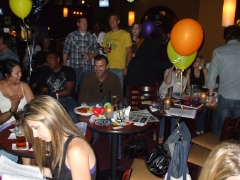 10:06pm
: Even if they're not the singing type, they'll be there. They'll be social. They'll be supportive. They'll be seriously good-looking. (My GAWD, do I have the most attractive friends on the planet or what???) Jeebus, it's good to have my worldview.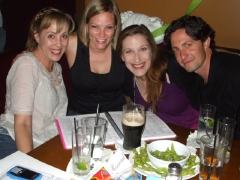 10:08pm
: They'll huddle up and talk shop. They'll compare notes on various projects in the works. They're just a bunch of working pros in this industry and they happen to also be awesome people. I'm so lucky! (L-R: Laura, Michelle, Bon, Jeff)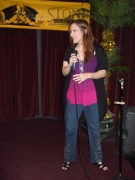 10:10pm
: And then--perhaps most importantly--they will stop whatever they are doing and pay attention to their friend Birthday Bon when she takes the mic to sing some Benatar. They will cheer and clap and even take their clothes off ('til they're told not to, by the establishment) and will--more than anything--just have fun being there. Which is the point, really.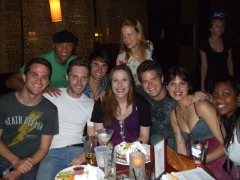 10:59pm:
They'll celebrate every moment. Because, why wouldn't you? I mean, this isn't actually my b'day, but it's the day we decided to come play. Like Thursdays are. Like many other days are. We just rock like that, and it's all a delicious reminder of how amazing my life is, filled with so many wonderful people. (L-R: Ryan, Marc, Trevor, Jacob, Bon, Phoebe, Erich, Shelley, Candice... awesome waitress Jessica in the background)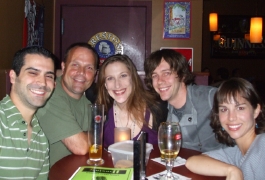 11:21pm:
Lest you think Keith isn't out and about, let me be sure you know, he's holding court in the back of the club. He's campaigning for a seat on the Hollywood and National Boards of SAG. And he's got a lot of great ideas. We should be so lucky to have him fighting to unify and protect performers' rights. (L-R: Eli, Keith, Bon, Brendan, Chelsea)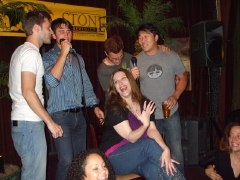 12:27am:
Wait, technically, no longer the 12th. Welp, y'know what? It's also not been my b'day, but we were celebrating as if it were. So, we'll keep calling this the 12th 'til the camera stops clicking. And here we are, in a serenade unlike any other. My god, I love my friends! (L-R: Trevor, Jacob, Tanya, Bon, Ryan, Chil, Cristina)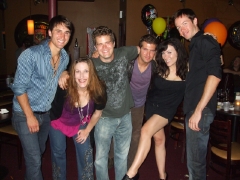 1:19am
: We suspect we'll have to leave soon, but we're just too cute to stop posing. I mean, really. Could you love us more? No way. We're just that adorable! (L-R: Jacob, Bon Erich, Joel, Cheryl, Dustin)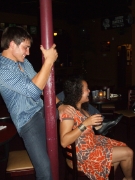 1:29am
: And because no night is complete without a lapdance, here's the lapdance. Oh, you thought maybe I should get it? Nah! Tanya had it coming, after trying to make sure Jacob got one on his b'day a few days earlier. So glad Boardwalk 11 has a pole!

How do I even begin to truly thank my amazing, thoughtful, supportive, wonderful, creative, smart, gorgeous, fantastic friends? Many more than these in the few 12 of 12 photos shared tonight. I'm just so beyond lucky and every day is better than the one before it because each day creates another opportunity to connect with my super-cool friends. Y'all ROCK my world. Please don't ever doubt that.
It's a long day tomorrow... and tomorrow is just moments away, as I type this up after 3:30am. I'm so excited to cast some new projects and bring in some of those very same actors who helped me close down the bar in celebration of my existence. What a blessing! I just don't know how to express my gratitude beyond gushing like crazy. I am filled with love.
What a way to be!

Thank you, Chad, for another lovely 12 of 12 experience. :) Kiss, kiss! Love, love!
Posted by bonnie at July 13, 2009 3:38 AM
Comments
This has probably been one of the most fun 12's I've ever seen. So glad you have awesome friends and awesome fun! Can't wait to see what you're up to next month.
Posted by: Sunny at July 14, 2009 2:17 PM
What a wonderful time you had. Thanks for sharing your great time and photos!
Posted by: Dan at July 14, 2009 4:16 PM
Thank YOU, Dan. For visiting! :)
Posted by: Bon at August 6, 2009 1:11 PM
Sunny, I have no idea why your comment got stuck in the spam area of things! So sorry! Just now saw it, fished it out, and posted it. :) Thank you for the visit and the comment. Hope August's 12 is as much fun. :)
Posted by: Bon at August 6, 2009 1:15 PM
Post a comment